1000 Solutions
Collaborating with Occitanie to accelerate the energy transition in the Region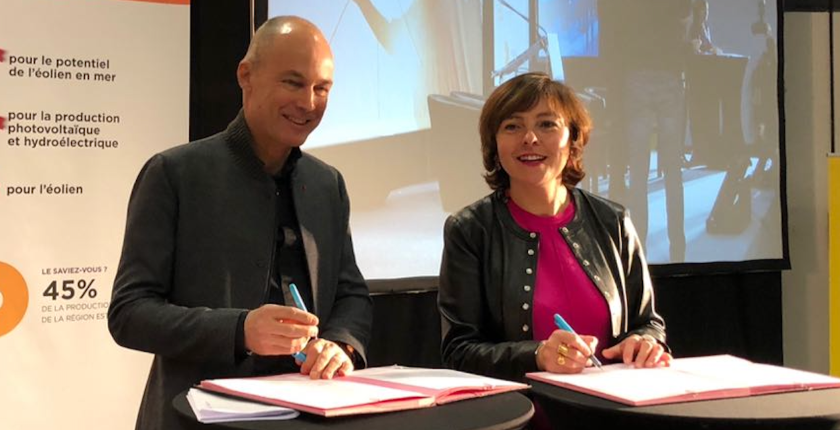 To finish off this very fruitful year, the World Alliance signed a Memorandum of Understanding (MoU) with the Occitanie Region - which stands at the forefront of renewable energy and clean technologies in France, and strongly encourages and empowers its territories and citizens to become actors of the energy transition.
Occitanie's ambition is to become the first Positive Energy Region (Région à Energie Positive) in Europe. It has already committed to dividing by two its energy consumption per capita, that is the equivalent of a 40% reduction of the energy consumption of the Region, and to multiplying by three its renewable energy production, both by 2050.
The MoU was signed by Carole Delga, President of the Occitanie Region, and Bertrand Piccard, President of the Solar Impulse Foundation, during Energaia in Montpellier, a forum and trade convention combining discussions on new market challenges and meetings for renewable energy professionals.
"Becoming the first Positive Energy Region in Europe should be more than just a slogan. It needs to become a reality in our daily lives, and it needs to be enriched by multiple and diverse initiatives. This ambition is driven by our responsibility to take concrete action to tackle climate change,"
commented Carole Delga.
"Occitanie has understood that being ambitious in its energy and environmental targets is not a constraint, but a concrete opportunity for sustainable and clean economic growth, job creation and profit, which at the same time reduces C02 emissions and protects the environment,"
added Bertrand Piccard.
To achieve these ambitious goals, many challenges have already been identified by the Region, such as upgrading the energy efficiency of buildings, better structuring and optimising the production and distribution of renewable energy, and leveraging innovation. In addition, it will unveil its roadmap for action early next year.
This new MoU aims to foster and strengthen collaborative efforts on issues of common interest, more specifically in the fields of clean and efficient technologies and in the development of low carbon footprint industrial processes.