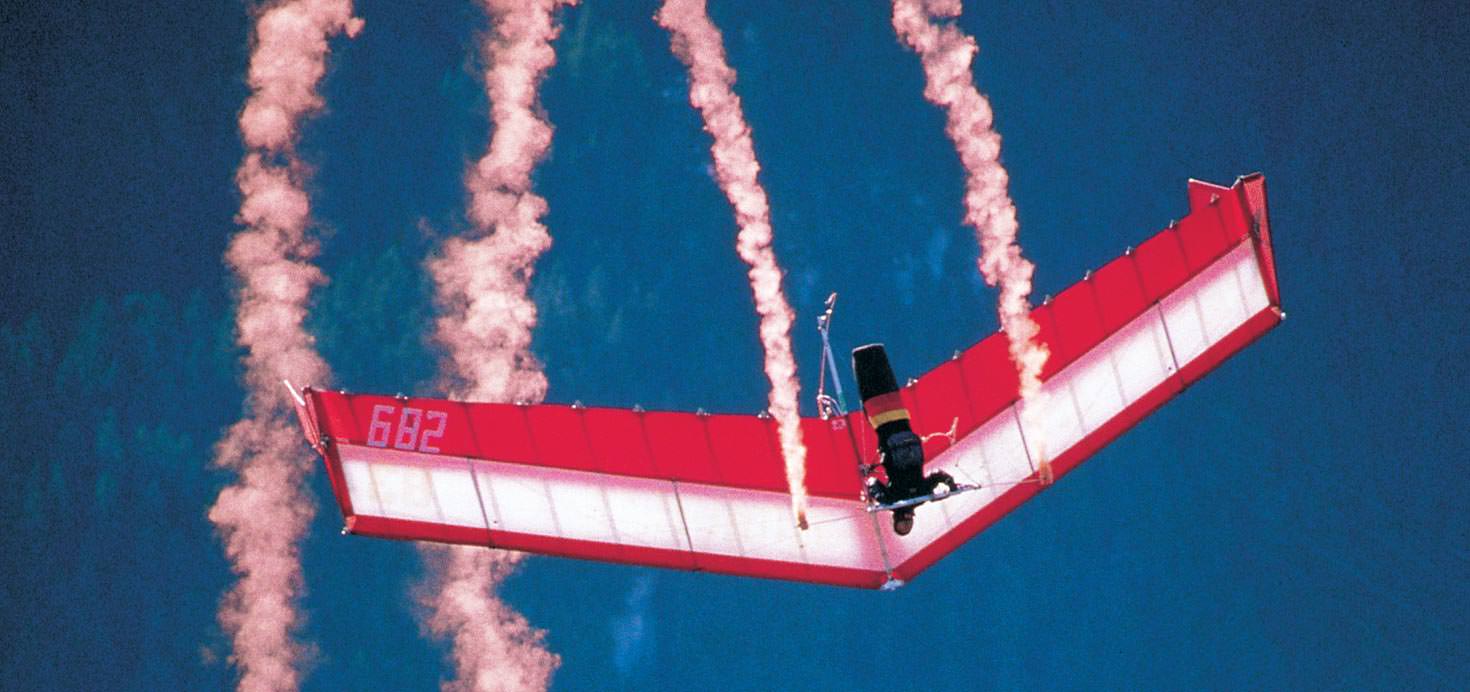 Eighteen years as a pioneer of hang-gliding in all its forms, learning about extreme situations.
When Bertrand, at the age of 16, first saw a hang-glider, it was love at first sight! Aviation had made it possible to explore everywhere, even as far away as the moon, and yet it was only now that the simplest of all flying machines made its first appearance. Just a few saw-cut tubes with hand-drilled holes, and a fabric wing cut out with scissors - such simplicity attracted a teenager in search of thrills, and who wanted to test his limits and confront extreme situations – so as to get to know himself better. Raised amid the rigors of science, Bertrand threw himself into this new world of sensations and intuitions.
Through pure hang-gliding - including competitions and aerobatic displays at air shows - as well as powered hang-gliding when the first ultralights appeared in Europe, Bertrand learned to manage risk and acquired the key faculties: concentration and speed of reaction. These would help him to manage unforeseen events and other vagaries in his life as an explorer, as well as stressful situations in everyday life. Over and above the sport, what fascinated Bertrand as a young adult was the level of performance he was able to achieve through self-awareness at any given moment. That is what led him to become first a doctor, then a psychiatrist.
1974
The first rudimentary hang-gliders appeared in the Swiss Alps.
Bertrand, a teenager with a rather fearful temperament but fascinated by the notion of confronting risk, set himself the challenge of overcoming vertigo and mastering the sport. He started flying immediately, coached by a few friends. The following year, he won his first competition.

« I can't describe my impressions of when the harness first tightened, my feet left the ground, and the wing started tilting with the movement of my body. Because it was my body that was causing the glider to turn, not my head, not my mind. A feeling of weightlessness and heightened consciousness stayed with me for several days after my first flight. »
1976 – 1992
Patterns in the air
Self-awareness when in action
Connecting with inner resources
Hang-gliders evolved, from the first, triangular wings - often dangerous – to those with rigid wings fitted with aerodynamic control surfaces. Bertrand evolved with them, and launched into aerobatic flight. A founder-member of the Swiss Hang-Gliding Federation, he quickly became well-known in the world of air-shows, doing numerous displays, most often released from under hot air balloons.

« There's no course that can teach you how to do aerobatics: to get started, you have only intuition, direct knowledge. A figure is either right or wrong and there is often little margin between the two. To perform a loop, the pilot has no instruments, only his own sensitivity. You must see and feel everything at the same time, and do everything at the right moment. »

1985

In 1985, he became European Aerobatic Champion, painting orange smoke trails in the sky with sequences of loops, flat spins and stall turns. A feat of sensitivity and finesse.
1979

Dreaming of adventures

He discovered ultralight flying in the very first motorized hang-glider imported into Switzerland. He was 21 and dreamed of adventure.

1983

He took part in the first Tour de France for ultralights in 1983 and decided to interrupt his medical studies in order to get this new discipline established in tourist areas. He flew over the Temple of Poseidon and Cape Sounion in Greece, and took the aerial shots for a film made in the Maldives ... This was his bohemian period, punctuated by improvised trips and exotic experiences. Three years later, he brought this period to an end and resumed his studies.

1985

He made the first Alpine crossing from Switzerland to Italy in an ultralight to protest against the ban on these aircraft decreed by certain Swiss ecological circles. This flight landed him in court.

1992

Bertrand did his final loop at Château-d'Oex in the Swiss Alps, before putting his hang-gliders away for good to concentrate, first, on preparing for the Transatlantic Balloon Race, then the Around-the-World challenge. For that, he had to learn to fly differently… with the wind, not against it.