News
Expert of the Year announced: Dr. David Snoswell!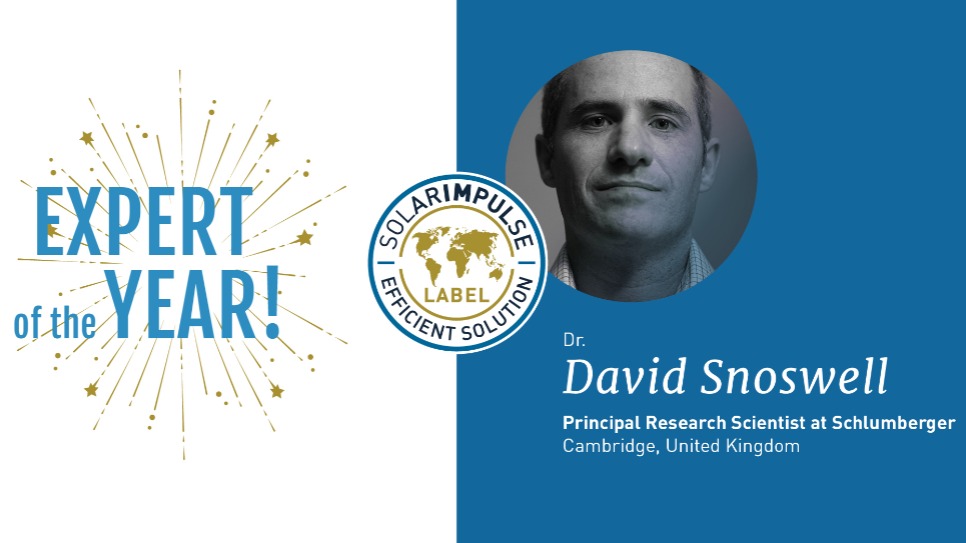 With 2020 having come to an end, there's time to reflect on the excellent work of everyone in the Solar Impulse Foundation Expert Community. Last year was a challenging year for everyone, but that didn't stop the Experts from working harder than ever! In 2020 the Expert Community helped to label over 500 clean and profitable Solutions, bringing 1000 Solutions within touching distance. We simply couldn't do what we do without the hard work and dedication of our Experts. From everyone at the Solar Impulse Foundation, a huge thank you to all the Experts for their work throughout 2020!
We are now pleased to announce that our Expert of the Year award for 2020, which highlights those Experts who have gone above and beyond in their role, can now been revealed. This sees the 30 best-performing Experts highlighted in recognition of all their efforts throughout 2020, and a special feature on the best-performing Expert. We are of course very grateful for the work of every single Expert, no matter how big their contribution to the Foundation.
We are delighted to reveal the Expert of the Year for 2020 is... Dr. David Snoswell!

Expert of the Year 2020: Dr. David Snoswell!
David is a Principal Research Scientist at Schlumberger and holds a PhD from the University of South Australia. After working in academia at the University of Bristol and the University of Cambridge David joined Schlumberger, where he has been for nine years. David joined the Expert Community in 2018, making him one of our longest-serving Experts. Since joining the Solar Impulse Foundation, David has shown unwavering dedication to the Expert role. Last year he completed 27 assessments, meaning that David has helped to label over 60 Solutions since joining as an Expert! On behalf of everyone at the Solar Impulse Foundation, a huge thank you to David for his hard work and commitment to labelling clean and profitable Solutions!
Congratulations! How does it feel to be Expert of the Year?
DS: It is a great honour to receive this title. I've always done as much as I can to promote the energy transition and was delighted to be invited to join the team in 2018. The number of experts has grown significantly since then so I was a little surprised to get the email.
Could you tell us a little about your area of expertise and your work at Schlumberger?

My original training was in Chemical Engineering but I've had an interesting career including a PhD in colloid science and 8 years postdoc work in chemistry and physics university departments. Since starting with Schlumberger in 2012 as a "soft matter physicist" I've work on a range of projects related to drilling precision boreholes. I am now a principal scientist managing a range of experiments. Schlumberger encourages self-development so ever since joining I've learned as much as I can about climate change, energy storage and the energy transition.
What current projects or topics are you involved in with your research?
For the last few years my main topic of research concerns the fundamentals of rock cutting and improving the efficiency of the process. Compared to my initial job title as a "soft matter physicist" it's very much the physics of hard matter! Some of this work relates to the drilling of hard rock, relevant to geothermal wells. I also regularly help our investment team evaluate early stage companies in the energy storage space which I really enjoy. There is a great synergy with the assessments for the Solar Impulse Foundation and I enjoy learning about new technologies that can help our planet.
What is the most promising or exciting area of your research focus which could help the transition to clean energy and sustainability?
My true passion involves all things related to the energy transition and I've had the honour to assist the New Energy group explore business strategies related to the emerging hydrogen economy in the last year. The term "Hydrogen Economy" is now 50 years old but recent world events are catapulting the concept into the mainstream. It is an incredibly exciting point in history. Our particular focus is on solid oxide electrolyser manufacture through our recently announced joint venture Genvia. My role has been to understand the technology, IP, competitors and help chart the right business strategy for Schlumberger from a scientific perspective.

What is the most rewarding aspect of your work?
Schlumberger has a long history of technology development and is able to make complex equipment work reliably in the harshest of conditions. To achieve these difficult goals we have a fantastic team of gifted people. It is the people I work with that make my job satisfying and enjoyable. I've worked in several environments over my career and the people at Schlumberger are without doubt the most talented and friendly. When you are part of an excellent team it feels like you can achieve anything, I am confident we can meet the changes the energy transition brings.
You were one of the first people to join as an Expert with Solar Impulse Foundation. Why did you decide to join the Expert Community?
The work of the Solar Impulse Foundation was completely aligned with my own interests. I had been looking for opportunities to expand my engagement with the energy transition since 2012 so it was an easy decision to help.
What does being part of the Solar Impulse Foundation mean to you?
The greatest desire of most scientists is to see their efforts "make a difference". But I am also a great believer that environmental solutions must make economic sense because we can't expect governments to pay for everything. Climate change is scary, and we need private sector funds to enable the rapid changes that are required. Every labelled Solution brings us a step closer to a hopeful future and that means a lot to me.
What are your hopes for the labelled Solutions, and the mission of the Solar Impulse Foundation more widely?
My sincere hope is that every Solution receives the financial investment it needs to develop. The range of solutions is extremely wide and varied, but the structure and categories on the website make it easy to match the technologies to investors and governments. Critically I hope Solution providers collectively reduce emissions, not just today or tomorrow, but over the entire life cycle. That way in 50 years we can point back in history and be truly proud of our achievements.
Interested in becoming an Expert or want to find out more? Check out the Expert Community page.