News
Climate Week NYC Transformed Into a Global Event Amid COVID-19 Restrictions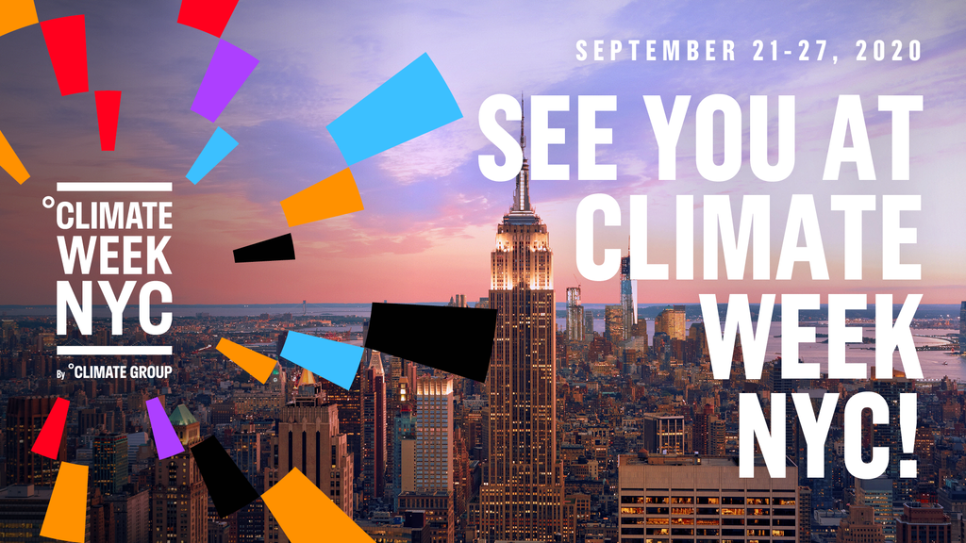 Bertrand Piccard, initiator and chairman of the Solar Impulse Foundation, brought his optimistic message about 1000 clean and profitable climate solutions to Climate Week NYC, which took place September 21-25, 2020.
This year's virtual format allowed for expanded global visibility, and also introduced Solar Impulse Foundation's #1000Solutions to more cleantech innovators throughout the United States. The foundation's physical entry into the US market (with a satellite location in Arlington, Virginia just outside of Washington, DC) provides ongoing opportunities to attract and coach entrepreneurs who have heard about the benefits of being accepted into the #1000Solutions portfolio for technology that protects the environment in a profitable way.
The Solar Impulse Foundation participated in three Climate Week events. On September 23, the Energy Efficiency Global Alliance and AOB Group launched the premier issue of its EE (Energy Efficiency) magazine, which includes a Question & Answer interview with Bertrand Piccard. This led to Piccard's invitation to speak about clean energy transition as part of a post-COVID economic recovery .
"Most businesses today speak only about production, not about efficiency," explained Piccard. "Before the COVID crisis, this world was a world of waste. - wasting between 50 and 75 percent of energy we produce, the food we produce, the natural resources we extract." But COVID has given people a pause to wonder if there's a new way forward. "Today it is as logical as it is ecological to become energy efficient, to become efficient across all the fields. This opens new economic opportunities and encourages us to use new technologies, new systems, new products and materials. It will oblige us to recycle what we were wasting before," said Piccard.
"When people talk about reducing CO2, you have to realize that CO2 is not only a factor of climate change. CO2 is a marker of inefficiency – of losing energy, of losing resources.
This is why we have to approach CO2 from the economic angle and become more efficient so we waste much less," added Piccard.
On September 24, Bertrand Piccard shared the virtual stage with business leaders from Scania and Einride to discuss efficiency, digitalization and transportation during the Exponential Climate Action Summit. The event featured other companies, organizations and subnational governments committed to cutting emissions in half by 2030 to slow the rise of climate warming. During his presentation, Piccard pointed out that people are taking a serious look at hydrogen and calling it the fuel of the future.
"Hydrogen is not the future; it's available now," said Piccard as he painted a picture of today's reality in Switzerland where a Swiss e-mobility system is already active. Thanks to a collaboration between hydrogen vehicle manufacturers, retail companies and fuel companies, Switzerland is actively promoting the adoption of hydrogen. While Hyundai shipped its fuel cell hydrogen-powered truck to Switzerland, Avia and other oil companies have agreed to build a network of refuelling stations to supply clean hydrogen, and major retailers Coop and Migros have committed to using the hydrogen trucks for deliveries, guaranteeing sufficient demand. Thanks to this ecosystem, 6 hydrogen fuelling stations will be operational by the end of the year, making it possible for drivers in Switzerland to travel border to border in a car fueled by green hydrogen, emitting nothing else but water vapor. This has required neither government policy nor subsidies because business took it upon themselves to act in favor of sustainability and make it happen. "It's as logical as it is ecological," Piccard added.
The third event during Climate Week NYC was hosted by the Solar Impulse Foundation and BNP Paribas, and was orchestrated by Alexandra Barraquand, the foundation's USA vice president of business development and partnerships. This day-long event was dedicated to coaching cleantech entrepreneurs and innovators in the process of applying for the Solar Impulse Efficient Solutions label. The coaches were among the BNP employees from New York, California and Canada offices who volunteered to share their expertise in sustainable business models. They provided individual and tailored guidance to challenge – and ultimately improve – the draft label applications of 23 companies that signed up for the special opportunity. On this particular day, startups were pleasantly surprised at the level of engagement they were able to achieve with BNP Paribas finance professionals.
Throughout the week, the resounding message was that COVID-19 has changed life as we knew it. Things are different now as we approach the end of the first year living with a pandemic that is still beyond control. As we wait for an effective vaccine, and go about our scaled back activities with safety an ever-present thought, one thing is clear – We need to move forward in a new way.
"COVID-19 is both a warning and an opportunity to take climate action now by getting unstuck from old ways of doing things. We have the solutions; we need policy makers, governments and the big corporate decision makers to step up and support a qualitative economic recovery that creates jobs, boosts profits and protects the environment in the process," concluded Bertrand Piccard.