News
ChangeNOW Summit 2022: Investors, Experts, Partners and over 50 Labeled Solutions at the World's Largest Event for the Planet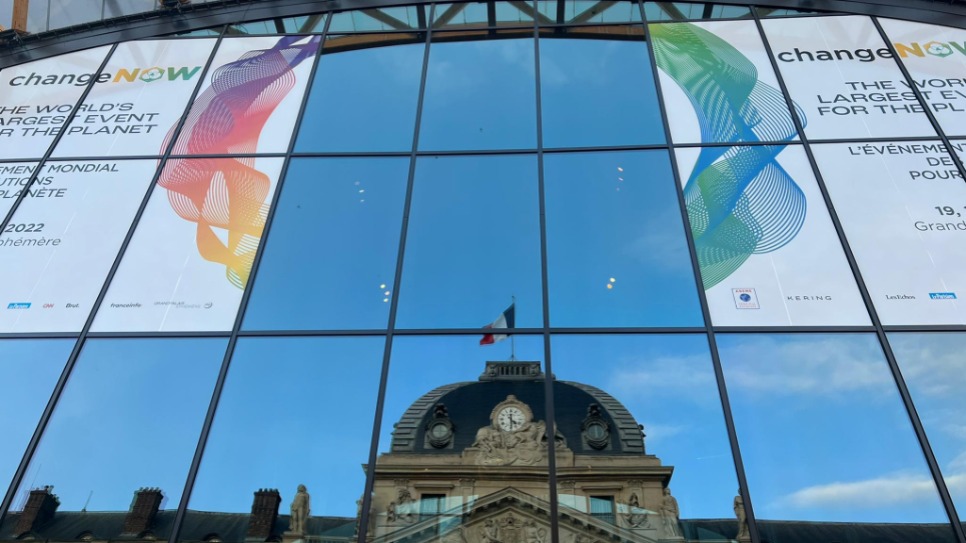 From May 19th to 21st, our team was at the Grand Palais Éphémère for another successful ChangeNOW Summit. With a line-up of over 400 speakers and a program packed with exciting activities, the event's 6th edition hosted conferences, start-up pitch sessions, workshops, networking events and a solutions exposition. In between sessions, attendees and speakers were able to sit and enjoy a coffee break at the eco-responsible food court. To cope with the warm Parisian summer, they could also drink plenty of water powered by UNYO technology – a sustainable water filtering system that works without using any chemicals or consumables.
Very much like the Solar Impulse Foundation, ChangeNOW has set itself the mission of bringing together solutions to tackle our planet's biggest challenges. This is why we have decided to be Ecosystem Partners of this unique event since the beginning. There could be no better opportunity for the Solar Impulse Foundation to connect with business leaders and policy-makers, while showcasing Efficient Solutions and meeting inspiring innovators. Since the last physical edition, held in January 2020, we had been waiting impatiently for this opportunity to finally meet so many of the great people we had only seen through screens for the past two and half years. Indeed, being back at ChangeNOW this year was a breath of fresh air.
---
Solutions Exposition
Thanks to our long-time partnership with ChangeNOW, this year again the Solar Impulse Foundation was able to offer eight international Labeled Solutions a free booth opportunity. We were delighted to meet also with other Labeled Solutions that decided to go on their own. Coming from areas such as Sustainable Cities, Circular Economy, Energy Carbon Reduction, Food and Agriculture, Biodiversity, Ocean & Water and Sustainable Fashion sectors in total, more than 50 exhibitors were holders of the Efficient Solution Label. In addition to having certified 1300+ Solutions, one of the strengths of the Solar Impulse Foundation is to ensure on a daily basis, that synergies are possible between the different members of the World Alliance network. For all of us, an event like ChangeNOW is a great way to witness the results of the work we do towards building personal relationships with each member. It is also a perfect demonstration of how these can help them meet new clients, investors and governors. More broadly, it is how we boost the adoption of clean and profitable technologies.
---
Startup Pitch Sessions
Besides the 50+ Labelled Solutions present throughout the three days, the summit was also an opportunity for us to connect with the investment community. We gathered a dozen of innovators and investors during a pitch session about sustainable cities. This was the opportunity for NOOSA® Fiber, EnviroCrete, Sustainable Building Materials, mBio7, MOASTEEL Houses, Rockease Platform, Urban Heat Vulnerability Map and Productive & Ecological Urban Farm to present their technologies and business plans in a 3-minute format. A jury composed of investor members of our network elected their favourite pitch. At the end of this session, we dedicated some time to favour exchanges between participants, which will potentially lead to sustainable investments.
---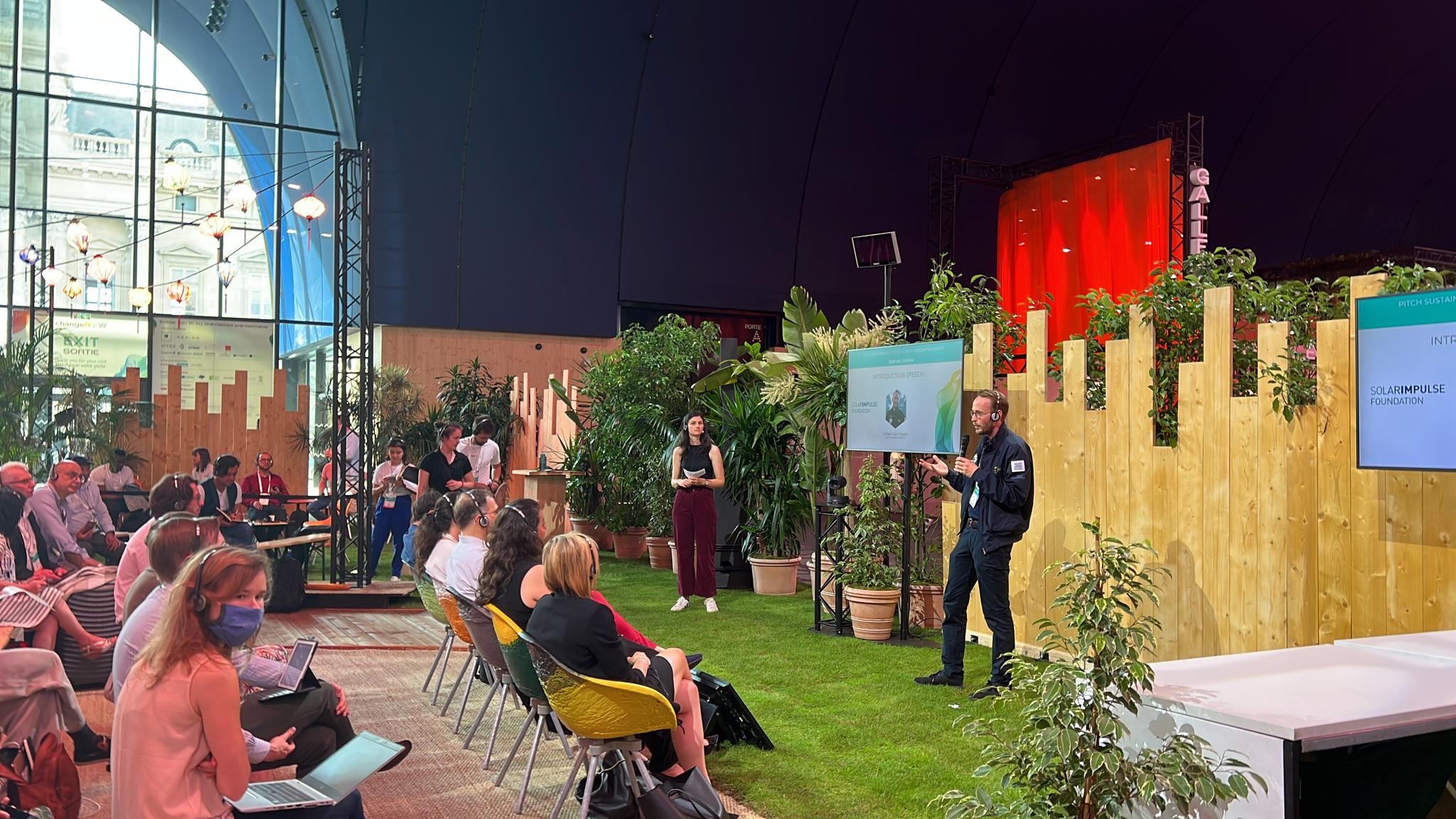 ---
On top of this pitch, we had the chance to meet with different investors, with exciting discussions about their strategies, and what the Solar Impulse network can bring to them. We found interesting synergies to explore and are looking forward to developing collaborations with these organisations in the near future.
---
Networking opportunities
On Thursday night (19), it was nice to see a few members of our Expert Community in an informal get-together we organised. Right next to the Earth Village, our Experts Axel Strang, Jean-Luc Vaillant, Mallorie Claudel and others met to talk about assessments, Solutions and future projects for the Community. Our Paris-based Ambassador, Sandra Hounkounnou, also joined us in the discussions. For almost 2 hours, we sat and discussed best practices for engagement maximisation, including the organisation of physical events for networking and exchanging with Labelled Solutions. ChangeNow2022 was also a great opportunity to introduce the role of the Expert to externals: many participants of the event had a strong technical background and at least five years of experience in one of the five SDGs targeted by the Foundation.
---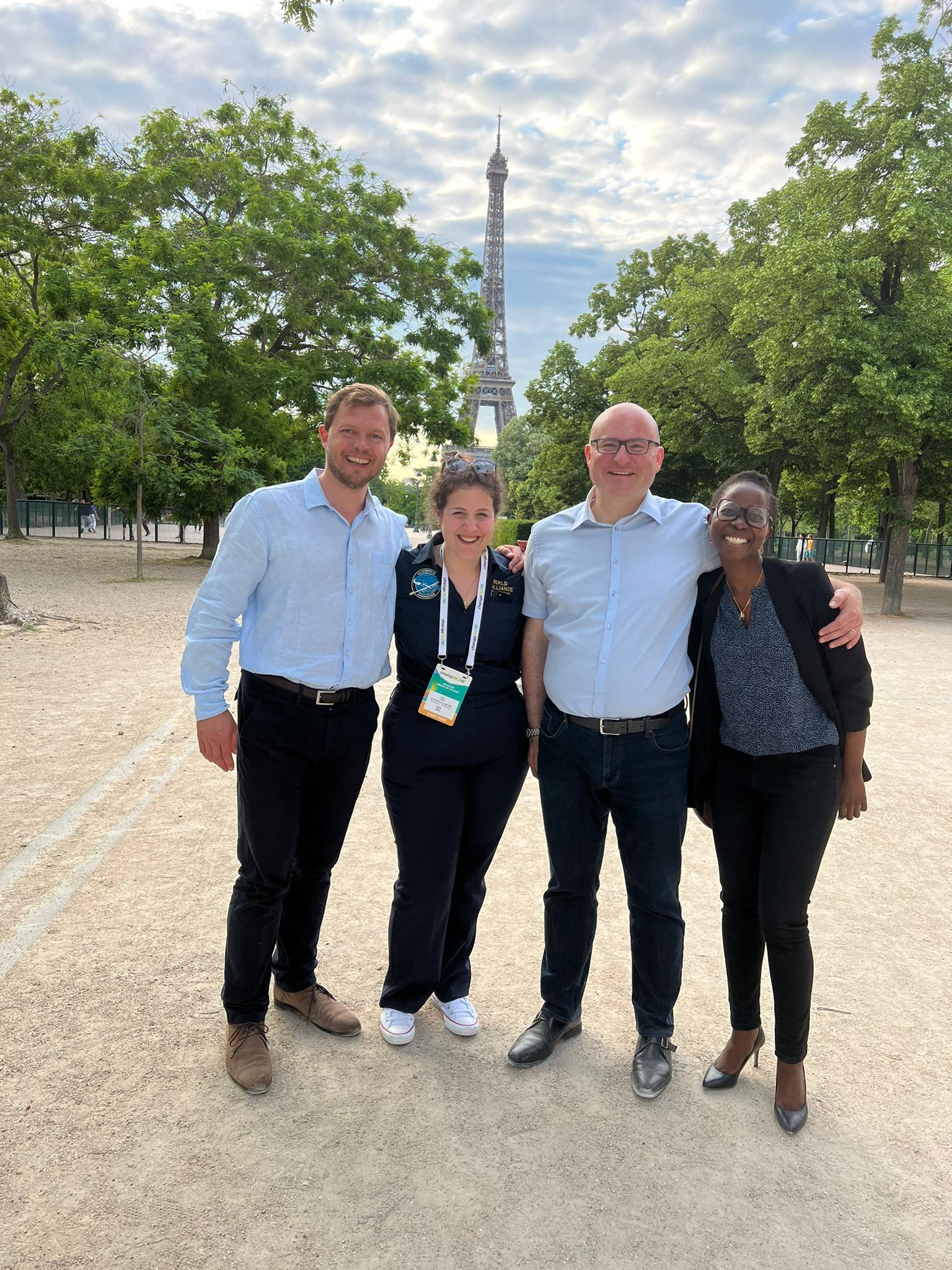 ---
Speakers & Sessions
First day started already with a very inspiring round table about Driving Business Differently with Christian Kroll (CEO of Ecosia), and Sudhanshu Sarronwala (CIO of INFARM) who made a striking point about the need for companies to think beyond competition and take a "holistic sustainability approach, i.e. to take the lead and encourage the entire industry to change". Later on the same stage, during the session Educating Planetary Champions, speakers reminded us of the necessity of rethinking education and teaching people in new ways to face the environmental challenges ahead. It was interesting to notice that, during the session, the following phrase was said more than once: "there is no economy without ecology". As we keep trying to inspire stakeholders to think beyond convention wisdom and, in this sense, to be logical as much ecological, it is reassuring to know that we are not alone
Amongst the very interesting sessions, there was the opportunity to hear another wake-up call, directly from the Gaia stage, when PIK - Potsdam Institute for Climate Impact Research 's Johan Rockström shared with the audience they will soon officialise that a sixth planetary boundary has been unfortunately crossed. At the same time (and only a few steps away), sustainability managers were gathering at the Bubble to share their experiences on Corporate Social Responsibility and their companies' decarbonisation strategies. From scientific to business leaders, ChangeNOW could not resonate better after listening to these conversations.
---
Social media
Throughout the 3-day summit, our team was actively engaging on social media platforms, making sure to share with our network everything that was going down at the Grand Palais Éphémère. From roughly 20 LinkedIn posts, our messages were sent across the world, being seen by over 26 thousand people and provoking more than 700 positive reactions altogether. A great sign of engagement, we are really happy to have you all following us on another important event.
For those of you who are interested in checking out the many conferences and highlights from the ChangeNOW Summit 2022, please know that all sessions were recorded and are now available on their official website.
The Solar Impulse Foundation team is looking forward to the next edition. We hope to see you there!