News
Bertrand Piccard to address energy leaders at the Clean Energy Ministerial - Mission Innovation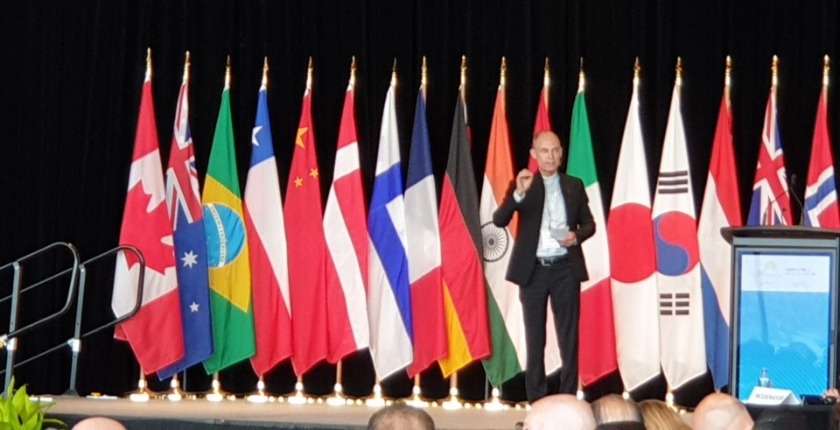 During 3 days, 26 energy Ministers, and hundreds of corporate leaders, international organisations, investors, and researchers will have but one goal in mind: pushing forward the clean energy transition.
This event, held every year, is a combination of the Clean Energy Ministerial (CEM), which gathers ministers with responsibility for clean energy technologies from the world's major economies to advance clean energy policies, and the Mission Innovation (MI), which focuses on accelerating clean energy innovation to fight climate change.
One year after launching the Solar Impulse Efficient Solution Label at last year's edition, Bertrand Piccard will return to the CEM10/MI-4 to share the progress of the Solar Impulse Foundation on promoting clean technologies and urge all leaders to move fast on the clean energy transition.
Accelerate transition to clean mobility
Having circumnavigated the globe without using a single drop of fuel, Bertrand Piccard has an obvious take on clean mobility. But he will not be at CEM10/MI-4 to promote solar planes… Instead, introducing a kerosene tax, increasing research on biofuels, building port infrastructure for electric ships, and encouraging incentives for electric vehicles are some of the solutions Bertrand Piccard will be speaking of at the CEM10/MI-4 to promote clean mobility.
Electrification must go hand in hand with decarbonisation
Following the call to action by Amarjeet Sohi, Canadian Minister of Natural Resources, and Fatih Birol, Director of the International Energy Agency, Bertrand Piccard will insist on the importance of increasing renewable energy sources to follow the rapid electrification in all sectors and keep up with electricity needs.
Efficiency is the new energy
While the source of our energy is a major issue, how much of that energy we use is just as important. Energy efficiency could potentially be the most impactful tool to reduce GHG emissions across all sectors, and it could have a tremendous economic impact, creating job opportunities and big savings for industrials, more than $1 trillion in the United States alone.
The 4th Mission Innovation will also feature over fifty cutting-edge technological solutions that have the potential to significantly accelerate the delivery of clean and affordable energy, both through the Mission Innovation Solutions and the Mission Innovation Champions programmes.
Follow the discussions live on: