News
Solar Impulse Experts recognised in Expert of the Year Awards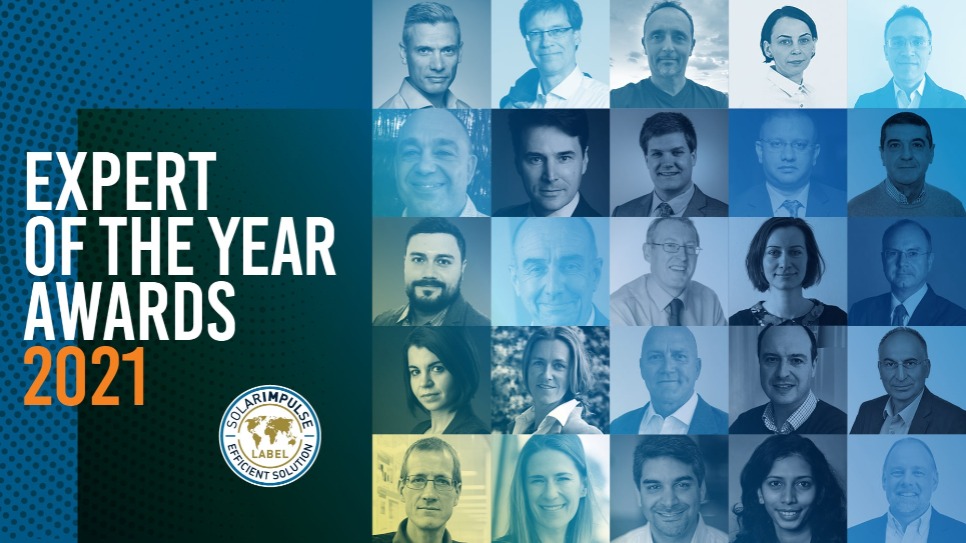 With 2021 having come to an end, it's time to look back on the excellent work of everyone in the Solar Impulse Foundation Expert Community. 2021 was another testing year for everyone professionally and personally, but the Experts continued to play a hugely important role in the Foundation.
Our Experts assessed hundreds and hundreds of Solutions seeking the Efficient Solution Label, ensuring that they meet strict standards on profitability and sustainability. In 2021 alone, the Expert Community helped to label over 400 clean and profitable Solutions. Without the hard work and dedication of our Experts, we simply could not have reached the amazing goal of 1000+ Labeled Solutions and beyond. From everyone at the Solar Impulse Foundation, a huge thank you to all the Experts for their work throughout 2021!
To recognise the efforts of our Experts, we are delighted to announce the Expert of the Year Awards for 2021. The Awards highlight Experts who have gone above and beyond in their role and have impressed in their dedication and motivation throughout the year. This sees the 30 top-performing Experts recognised for all their efforts throughout 2021, and a special recognition for the best-performing Expert.
A massive congratulations to the 30 Experts recognised in the 2021's Awards! We are of course very grateful for the work of every single of our Experts, no matter how big their contribution to the Foundation.
We are delighted to announce that from the 30 best-performing Experts in 2021, the Expert of the Year is… Paulina Janiak!
Paulina is an independent Consultant and Advisor with a background in economics, international relations, marketing and management, and environmental policy. Her expertise lie in energy, transport, water, health, innovation, and more. She is from Poland, and since obtaining her first degree, has lived and worked in the Netherlands, Hungary and, currently, in Italy.

Expert of the Year 2021: Paulina Janiak!
Congratulations! How does it feel to be Expert of the Year?
When I first learned about being the Expert of the Year I was both quite surprised to be the one selected and, at the same time, I felt honoured and proud to be distinguished for my work. In the course of 2021 I had a chance to contribute to the work of the Foundation with different type of inputs, including solutions assessments, thematic articles, and investment opportunities selection scheme design.
Could you tell us about your area of expertise?
I am an innovation and development consultant working in the fields of climate and environment at the intersection of water, energy, agri-food, transportation and digital technologies. In my everyday work I assess and facilitate development and delivery of advanced solutions in products, services and processes. I also conduct socio-economic studies, such as policy, regulatory, and institutional framework analysis or market analysis. In addition, I coach-mentor startups and SMEs on their road towards ideas commercialisation, work on multi-stakeholder engagement in projects and programmes, and act as a career development coach-mentor.
What current projects or topics are you involved in?
Because of my background in socio-economics and environment I tend to be involved in a wide range of project themes, from studies on hydrogen economy development, climate and environment sector entrepreneurship promotion, EU funding applications assessment, to advice on circularity in food and agriculture.
What is the most promising or exciting area of your research focus which could help the transition to clean energy and sustainability?
It would not do the justice to name only one area from all the topics I have had a chance to be involved in recently. Therefore, I will list two of them as a minimum. The first is the transition towards the hydrogen economy in hard to decarbonise sectors, such as industry and transport; and the second, the transition towards a circular economy in cities, with a particular focus on food, fashion and construction sectors.
What is the most rewarding aspect of your work?
Definitely the diversity of topics I have the opportunity to deal with every day, thanks to which I keep on learning new things. This also represents a challenge as it requires a lot of flexibility and going out of the comfort zone to swiftly deep dive into often only remotely related disciplines. Another rewarding aspect is the possibility to work along the whole innovation cycle, from ideation, through products and processes development and implementation, to outcomes assessment.
Why did you decide to join the Expert Community, and what does being part of the Foundation mean to you?
I spotted an announcement for evaluators at the Foundation on the Horizon 2020 experts portal back in early 2019, when assessment of innovative projects, products and processes was the main part of my work. I already knew about Bertrand Piccard's around-the-world flights, first with a hot air balloon and then with a solar-powered plane. I thought it would be a great opportunity to contribute with my evaluation expertise to the new undertaking of identifying 1,000+ profitable Solutions for the environment.
Are there any Solutions you've assessed which really impressed you?
Over the two years I have been involved as an Expert I have seen so many promising solutions. If I need to choose, among those which are the most memorable ones - either because of the addressed problem, proposed technology, expected impact or simply presentation of the idea - I should mention: Recapture, proposing a new approach to CO2 emissions removal; Bio-active Concrete Solutions, facilitating marine ecosystems restoration; Magna Glass Ceramic Slabs, promoting waste material use in architectural applications; Interceptor, fighting plastic pollution in water courses; and Membrane Aerated Biofilm Reactor, increasing energy efficiency and capacity of wastewater treatment plants.
What are your hopes for the Labeled Solutions, and the mission of the Solar Impulse Foundation more widely?
I hope that thanks to the SIF Label the solutions will find the assistance their proponents are looking for, whether it is commercialising their ideas, raising another round of funding, expanding operations to new markets or finding new strategic partners. As for the Foundation, I believe it should continue identifying and labeling new, clean and profitable solutions and simultaneously advocate for a widespread adoption of ambitious energy and environmental programs by national and local governments worldwide.
Find out more and apply to join the Expert Community.