News
New Tools for Climate Action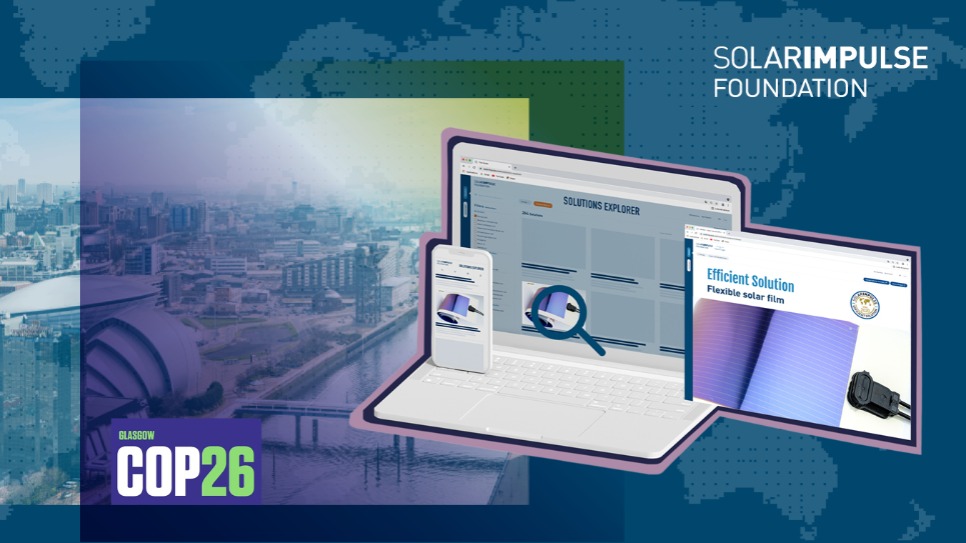 As COP 26 launches in Glasgow, the Solar Impulse Foundation launches two new tools: a search engine, the Solutions Explorer, and a custom contextualised selection of solutions for Scotland, the Solutions Guide for Scotland.
This week, the world is looking for progress in the fight to protect the environment. Stakes are high and so are the frustrations from years of unsubstantiated climate goals. The question that rises to the surface is 'how'. What concrete measures will governments take? What strategies to influence businesses in the right direction?
At the Solar Impulse Foundation, we've always wanted to take a pragmatic approach, by promoting the fast adoption of clean and profitable technologies as tools that decision makers can use to reach their goals. The fact that these innovations are profitable is key as they would then make sense even for sceptics more interested in money than climate. This vision is not new. It was already there close to 20 years ago, when Bertrand Piccard, wrote this manifesto.
Solar Impulse & the road to 1000 solutions
The flight around the world with Solar Impulse was a demonstration of the potential of clean technologies. It taught us that human ingenuity can defy what seems possible for a plane to achieve, and do it by working on efficiency alone. It was a success, yet it remained a demonstration.
After the flight, we wanted to be tangible. We developed the Solar Impulse Efficient Solutions label, a process certified by Ernst and Young that assesses innovations individually by independent industry experts for their environmental and economic performance. We launched into the challenge of labeling 1000 such solutions. Five years later, last April, we achieved that goal. It proved that there already exist solutions that are clean and make money.
Today we decided to go two steps further by launching two new tools, the Solutions Explorer and the Solutions Guide for Scotland. With these we want to help anyone, but especially decision makers, find the solutions they need to achieve bold climate targets.
The Solutions Explorer, the search engine for climate action
All these solutions form a rich database from 72 countries around the world. We wanted to help best match these solutions to those needing them, so we created the Solutions Explorer. It's a one-of-a-kind search-engine that enables anyone to freely navigate this ever-growing and curated portfolio of 1300+ clean and profitable solutions.
Its filtering tool enables Solutions to be selected based on 9 Sectors to define the area of interest, +50 profiles to define yourself or your entity, 25 different applications to specify your position in the value chain, 5 environmental benefits to let you choose the impact area you want to work on.
The results are fascinating: flexible solar panels, a liquid to safely and easily transport hydrogen, climate change resistant corals that grow fast, CO2-cured low-emissions cement. These are just a few out of over 1300.
Using the Solutions Explorer, Businesses, public authorities, and individuals can find out new and efficient ways of producing, consuming, and valuing resources. It helps them work towards their climate objectives in a cost-competitive and profitable manner.
Tailoring Scotland's climate action pathway
To showcase the potential of the Solutions Explorer and to pay tribute to the hosting country of COP26, we created a Solutions Guide addressed to the government of Scotland. It's based on a contextualized analysis of Scotland's major polluting sectors and puts forward a selection of technologies from the Solution Explorer that could help the country alleviate this carbon footprint and reach its ambitious environmental objectives in a way that improves the quality of life of its citizens.
We're offering Solutions Guides also to non-governmental decision-makers, such as industry representatives and corporations. As part of the Solutions Guide for the Scottish government, we're presenting a case study on the local whisky industry as a key business in Scotland's economy. It focuses on The Glenmorangie Company, a brand within the LVMH Group, one of our partners, demonstrating how the whisky industry could successfully transition towards its declared objective to reach net-zero by 2040.
Empowering governments and businesses
The Solutions Guide for Scotland is the first of such Guides. Beyond this, we are ready to engage in close partnerships with public authorities and businesses on building a concrete, tailored roadmap towards solution implementation.
These tools show us what kind of world we could live in. They show us how wasteful we are and how much more efficient we could be. With the right conditions, the right incentives, a technology revolution would happen much faster because these solutions are ready now. And since they're profitable, money isn't an excuse anymore.