Interviews
March's Expert of the Month: Dr. Elorri Igos!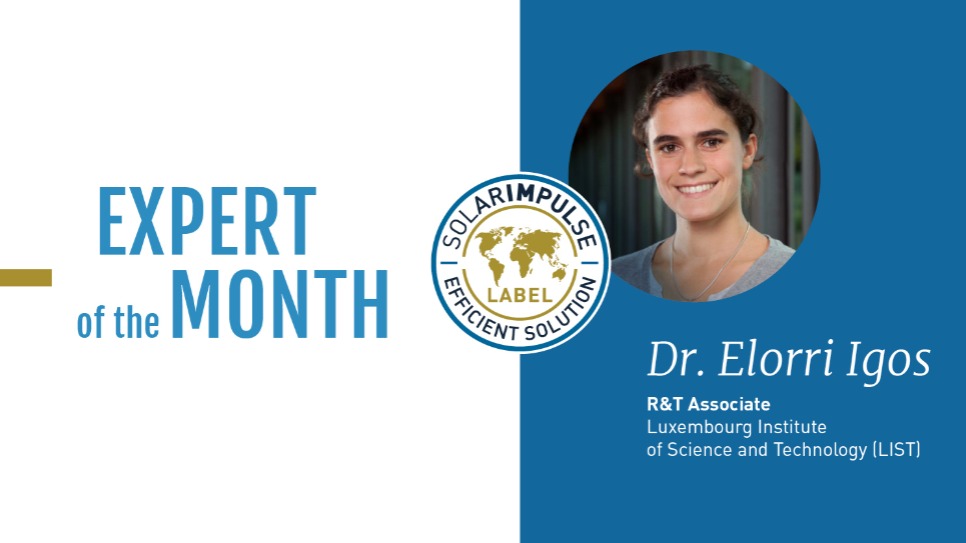 Each month we recognise the efforts of one of our Solar Impulse Experts. The Experts play a vital role in process of awarding Solutions the Solar Impulse Efficient Solution Label. Experts assess Solutions based on their technical feasibility, environmental impact, and financial profitability and make a judgment on their suitability for the Label. The Expert Community is made up of over 360 Experts from across the world, bringing expertise from a diverse range of fields including science, engineering, research, industry, business and much more.
The Expert of the Month award for March goes to Dr. Elorri Igos! Elorri has been an Expert with the Foundation since 2019 and has shown great dedication to the Expert role ever since joining. Thank you to Elorri for her commitment and passion!
Please tell us a little about yourself!
Elorri: I'm from France but now live in Luxembourg. I graduated in process and environment engineering from INSA Toulouse in 2011 and defended my PhD thesis regarding the environmental evaluation of wastewater treatment at the University of Trier (Germany) in 2016.
Could you tell us a little about your area of expertise and your professional work?
My area of expertise is the environmental impact evaluation of products and services, based on the Life Cycle Assessment (LCA) methodology. As a researcher at the Luxembourg Institute of Science and Technology (LIST), my work aims at improving the LCA methodology to better support decision makers. I am collaborating with industrial partners to guide them towards more sustainable technological or strategic choices.
Why are LCAs important for sustainability and how can they help to build a better understanding of sustainable solutions?
LCA is a holistic measurement tool which quantifies the impacts with a lifecycle perspective, from the extraction of raw materials through to waste management; and a multi-criteria approach, considering various indicators such as climate change, toxicity or resource depletion. It is important to provide such comprehensive quantification to understand the environmental benefits and drawbacks of solutions and be sure that we are not displacing the problem somewhere else.
What is the most promising or exciting area of your professional focus which could help the transition to a sustainable society?
Recently, the concept of 'absolute sustainability' has gained attention. The idea is not to say that the analysed solution is better than the current alternative (as usually done in LCA) but if it is enough to stay within the 'planetary boundaries', i.e. biophysical boundaries that human impacts should stay within to avoid potentially unacceptable earth system changes. It's quite a challenging evaluation but I guess that it could help the transition to a sustainable society by understanding the level of action required to reach 'absolute sustainability', rather than just trying to be better than the neighbour. Such a concept has also been derived at a company level with the setting of 'science-based targets', e.g. to stay well below 2°C of global warming by 2100.
What is the most rewarding aspect of your work?
When I feel that I make people think differently and that they might take more eco-friendly decisions thanks to my work. When I get such feedback from partners but also from citizens that attend our public events, it motivates me to keep going.
You joined the Solar Impulse Foundation in 2019! Why did you decide to join the Expert Community?
After the speech of Bertrand Piccard at the Life Cycle Management conference organized by LIST in 2017, the Ministry of the Environment, Climate and Sustainable Development of Luxembourg and LIST decided to contribute to the Solar Impulse Foundation and I joined this initiative to extend the impact of my work but also learn from others.
What does being part of the Solar Impulse Foundation mean to you?
It's being part of a community that tries to facilitate the implementation of sustainable solutions. It's also very interesting to exchange with other Experts, we all have different backgrounds so we can benefit from this complementarity.
What are your hopes for the labelled Solutions, and the mission of the Solar Impulse Foundation more widely?
I hope that they could be implemented and make a significant contribution. To face the environmental and societal challenges of our society, we need drastic changes and the joint action of industry, policy makers and citizens. I hope the Solar Impulse Foundation will continue providing solutions for these different actors to foster the transition.
Congratulations once again to Elorri on being the Expert of the Month! To find out more about the Expert Community, or to register your interest in becoming an Expert, see here.